Martello Towers in Australasia
There is one Martello Tower in Australia.

There was only one Martello Tower built in Australia, Fort Denison. It was built in 1857 on an island in Sydney Harbour and was the last Martello tower ever built in the British Empire.
In 1839, two American warships entered the harbour at night and circled Pinchgut Island. The concern with the threat of foreign attack caused the government to review the harbour's inner defences. Captain George Barney, the civil engineer for the colony, had earlier reported that Sydney's defences were inadequate, recommended that the government establish a fort on Pinchgut Island to help protect Sydney Harbour from attack by foreign vessels.
Fortification of the island began in 1841 but was not completed. Construction resumed in 1855 because of fear of a Russian naval attack during the Crimean War and was completed on 14 November 1857. The newly built fort then took its current name from Sir William Thomas Denison, the Governor of New South Wales from 1855 to 1861.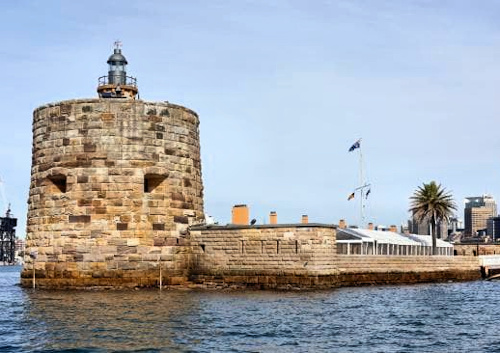 Fort Denison Today
However, developments in artillery rendered the fort largely obsolete by the time it was completed. The tower itself had quarters for a garrison of 24 soldiers and one officer. Fort Denison's armament included three 8-inch (200 mm) muzzle loaders in the tower, two 10-inch (250 mm) guns, one on a 360-degree traverse on the top of the tower and one in a bastion at the other end of the island, and twelve 32-pound (15 kg) cannons in a battery between the base of the tower and the flanking bastion.
In 1978 the former fortress was listed on the Register of the National Estate, and is now used as a national park, nature reserve, tourist facility, and as a function space.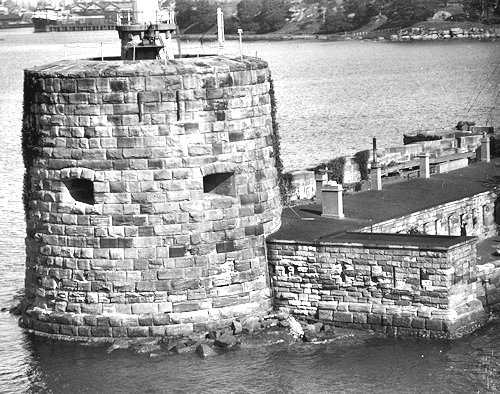 Fort Denison c1930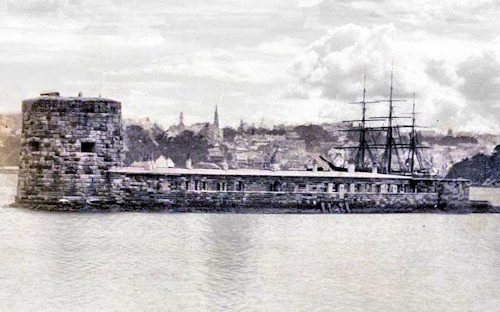 Fort Denison c1855
Photo Gallery of Fort Denison NB Scroll right and left and click on a picture to see it enlarged in a slideshow
Photos courtesy of Donald Chisholm-Smith and the Victorian Forts and Artillery group.