Martello Towers in Canada
Fifteen Martello towers were built in Canada between 1796 and 1870. but only eleven still survive. The early towers were built by the British to defend against the French. The later towers were built as a consequence of political tensions between Canada and the United States.
A common characteristic of Canadian Martello towers was removable cone-shaped roofs to protect against snow. Today, many of the restored towers have permanent roof additions – for ease of upkeep, not historical accuracy.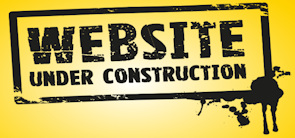 The Towers in Canada:

Quebec No.1

Quebec No.2
Quebec City No.3 no longer exists

Quebec City No.4

Duke of Clarence Halifax

Georges Island Halifax

Sherbrooke Halifax

Prince of Wales Halifax

Duke of York Halifax

Cathcart Kingston

Fort Frederick Kingston

Murney Kingston

Shoal Kingston

Carlton New Brunswick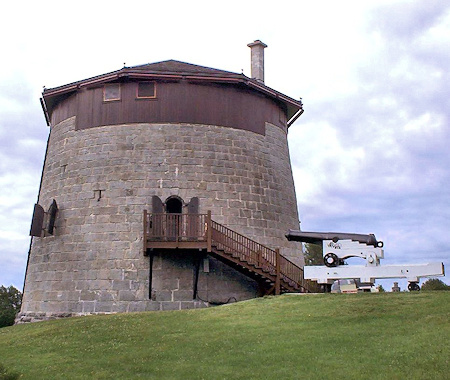 Quebec No.1 Martello Tower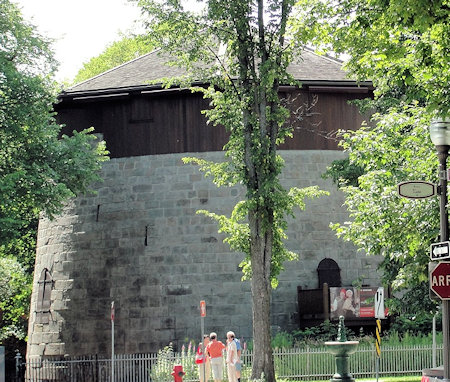 Quebec No.2 Martello Tower
Quebec No.3 no longer exists. It was demolished in 1904 to make way for the McKenzie Memorial Building of the Jeffery Hale Hospital. after being used as a residence.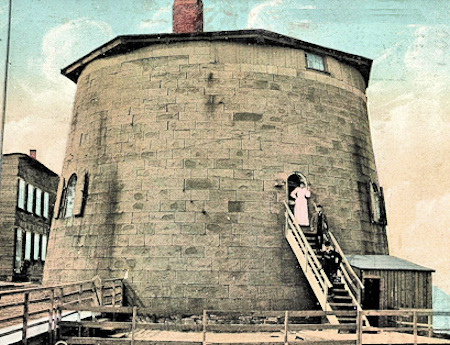 Quebec No.4 Martello Tower c1900
Halifax, Nova Scotia, had five towers, the oldest of which, the Prince of Wales Tower located in Point Pleasant Park, is the oldest Martello-style tower in North America. It was built in 1796 and was used as a redoubt and a powder magazine. Restored, it is now a National Heritage site.
The Duke of York Martello Tower was built in 1798 at York Redoubt. Its lower level still stands, though it has been boarded up for conservation purposes.
The Duke of Clarence Martello Tower stood on the Dartmouth shore. A British colonial Martello tower established in 1798 by Prince Edward, fourth son of King George III, in present day Dartmouth, Halifax, Halifax County, Nova Scotia, Canada. Designed by Captain James Straton, Commanding Royal Engineers. Officially named Duke of Clarence's Tower on 20 Oct 1798 for the Duke of Clarence by his brother Prince Edward. Demolished in 1889.
Sherbrooke Martello Tower stood opposite York Redoubt on McNabs Island; it was demolished in 1944 and replaced by a concrete lighthouse at Maughers Beach.
Another Martello tower stood on Georges Island.
Four Martello towers were built at Kingston, Ontario to defend its harbour and naval shipyards in response to the Oregon Crisis. Their builders intended for the towers to serve as redoubts against marine attacks. Murney Tower and the tower at Point Frederick (at the Royal Military College of Canada) are now museums that are open during the summer.

Line of defence: three Martello towers Fort Frederick, Shoal Tower, and Cathcart Tower in Kingston, Ontario

Fort Frederick has the most elaborate defences as it includes earthen ramparts and a limestone curtain wall.
Cathcart Tower, the fourth tower, stands unused on Cedar Island near Point Henry.
Carleton Martello Tower, overlooking the harbour of Saint John, New Brunswick, is now a museum and a National Historic Site.
Shoal Tower, originally known as Victoria Tower, is a Martello tower located in the harbour (Confederation Basin) of Kingston, Ontario, Canada, directly opposite Kingston City Hall.
It is one of four such towers built in the 1840s to protect Kingston's harbour and the entrance to the Rideau Canal.
Cathcart Tower on Cedar Island, Shoal Tower in the Confederation Basin, Fort Frederick on the grounds of the Royal Military College of Canada, and Murney Tower were part of the same strategic improvements.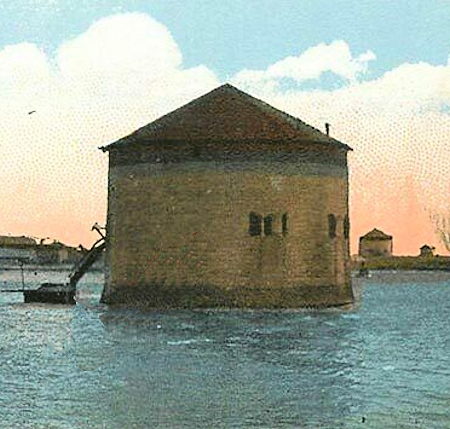 Shoal Martello Tower
Built in 1847, this limestone tower is 11 m high and 16.5 m in diameter. The guns of Shoal Tower defended the approaches of Kingston Harbour.
A dispute between Great Britain and the United States over the boundary between British Columbia and Oregon that threatened to lead to war and to the invasion of Canada (see Oregon crisis) prompted their construction.
Eventually, Shoal Tower was abandoned. It was designated a National Historic Site of Canada in 1930 and is part of the Kingston Fortifications National Historic Site.
Since 2005, it is open to the public as part of Doors Open Ontario for one day only in June each year.