Martello Towers
Introduction
Martello Towers, sometimes known simply as Martellos, are small defensive forts that were built across the British Empire (see map) during the 19th century, from the time of the French Revolutionary Wars onwards. Most were coastal forts.
Between 1796 and 1815, 194 towers were built; both in Britain and its dependencies, as part of a comprehensive defensive scheme and as a direct result of the British being at war with both France and the United States of America. ​


In North America, the construction of MartelloTowers continued until 1873 when the Americans decided to abandon the building of towers at Key West prior to their completion. In Europe, the construction of such towers had all but ended by 1815, with only five further towers being built, in Jersey, after this time. The practicality of the towers had diminished after 1815 because the perceived threat to British security posed by France had gone with the defeat of Napoleon at the Battle ofWaterloo.
By the 1850s developments in artillery meant that the towers were not strong enough to withstand an attack with the new rifled muzzle-loading cannon that was both more powerful and capable of being fired over large distances. This swift obsolescence meant that many towers were promptly sold or adapted for other uses.
Background
The Peace of Amiens, signed in March 1802, had ended nine years of war with Revolutionary France, but soon to be Emperor Napoleon Bonaparte's territorial ambitions in Europe and elsewhere were to ensure that peace was short-lived. On 18 May 1803, faced with clear evidence of France's expansionist aims and unwilling to tolerate Napoleon's control of Holland, England declared war.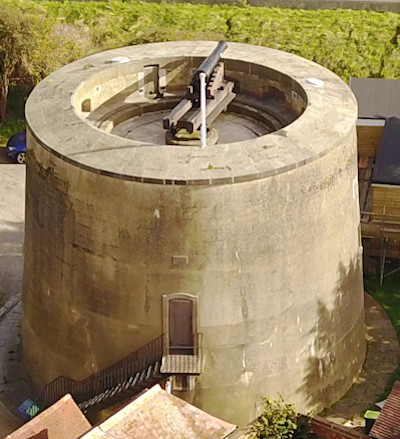 Martello Tower No.24 on the UK Kent Coast
For the first two years of the war, Napoleon's main aim was the invasion and subjugation of Great Britain. To that end, three army corps, all seasoned veterans of earlier campaigns, were ordered to the Pas de Calais and encamped on the coast between Calais and Étaples. To transport this Grand Army to England, Napoleon ordered the construction of an armada of flat-bottomed barges, to be supplemented by fishing boats and other small craft. Ambleteuse, Wimereux, Boulogne and Étaples were the principal construction and assembly ports for this vast fleet, but Calais, Dunkirk and Ostend played important supporting roles.
Two years after the renewal of war, Napoleon had invasion shipping for almost 168,000 troops and equipment. `Let us be masters of the Straits for six hours' he had said in July 1804, adding modestly `and we shall be masters of the world'.
Soon after the renewal of war in the spring of 1803, Captain William Ford, one of the military engineers working on the Dover defences, put forward a proposal for a chain of square gun-towers - `towers as sea fortresses' - along the coasts of Kent and Sussex. These were to be sited at close intervals, so that their fire crossed for mutual protection, while the high cost of their construction compared to existing field-works was to be partly offset by their lower maintenance requirements.
After some eighteen months of debate inside and outside the military establishment, Ford's proposals were adopted in modified form and the round towers then constructed became known as Martellos.
Martello Towers
Martello Towers stand up to 40 feet (12 m) high, with a ground floor, first floor and roof, housing a cannon. They typically had a garrison of one officer and 15–25 men.
Their round structure and thick walls of solid masonry made them resistant to cannon fire, while their height made them an ideal platform for a single heavy artillery piece, mounted on the flat roof and able to traverse and hence fire over a complete 360° circle. A few towers had moats or other batteries and works attached for extra defence.
The Martello towers were used during the first half of the 19th century but became obsolete with the introduction of powerful rifled artillery. Many have survived to the present day, often preserved as historic monuments.

There are still over 150 Martello Towers throughout the world: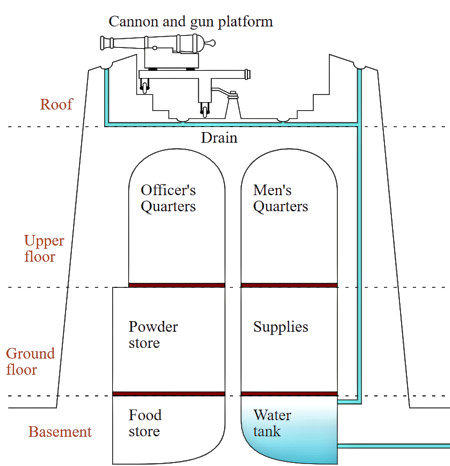 Diagram of a Martello Tower
For information about these towers, just click on the appropriatelink below:

Antigua and Barbuda


Australia


Bermuda


British Virgin Islands


Canada


England

Guernsey


India


Indonesia


Italy


Ireland


Jamaica

Jersey


Malta


Mauritius


Scotland


Sierra Leone


South Africa

Spain


Saint Helena


Sri Lanka


United States


Wales

Sir Walter Scott wrote about Martello Towers in his novel Peveril of the Peak:
From this feudal Baron, who chose his nest upon the principles on which an eagle selects her eyry, and built it in such a fashion as if he had intended it, as an Irishman said of the Martello Towers, for the sole purpose of puzzling posterity, there was, ...