Interesting Facts About Martello Towers
What makes a Gun Fort a Martello Tower?
• used for coastal defence
• very thick strong walls and long-lasting
• flat roof with a parapet
• high-level entrance door
• of circular/oval shape
• the walls have a distinct slope or batter from the base of the tower to its top
• large cannon able to traverse through 360°
• a large, strong central pillar to support the cannon and act as a pivot for its traversing carriage
• small garrison
Not all of the c200 Martello Towers built had all these characteristics but most had many of them. The 74 Martello Towers built along the Kent and Sussex coast had all of these characteristics.
Sources: 'Martello Towers' by Sheila Sutcliffe; 'Dymchurch Martello Tower English Heritage' by J G Goad

Largest Martello Tower
The largest Martello Tower is Tower CC at Aldeburgh in Suffolk, UK. It is effectively four towers joined together. After becoming derelict it was acquired by the Landmark Trust and after extensive repairs, it was converted into holiday accommodation.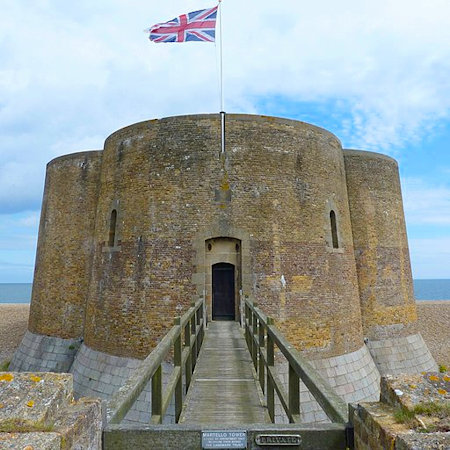 Tower CC at Aldeburgh

Mortella and Martello?
Why are the towers known as Martello and not Mortella? There is no doubt that Martello Towers are based on the Mortella Tower at San Fiorenzo Bay in Corsica, so why the change to Martello?
There are many theories and the truth is almost certainly included within them.
Firstly, that the British simply got the name wrong, either mispronouncing or misspelling, or a combination of both, "Mortella" as "Martello"?
[There is strong support for this explanation as there is on record a letter sent by Lord Hood, Commander in Chief of the Fleet in the Mediterranean, from Victory, Martello-Bay, August 5, 1794, and included the paragraph Upon my junction with Vice- Admiral Hotham off this port, on the 9th, I detached Captain Nelson, in the Agamemnon, to Bastia, with orders to embark the troops, and proceed with them to Martello Bay, where Lieutenant-General Stuart embarked on the 15th; and expressing a wish to proceed to the attack of Calvi immediately, Captain Nelson complied with it, and on the 19th all the troops were landed, under the direction of Captain Cooke, in a small cove, about three miles from Calvi.]
It has been suggested that the name Martello, instead of Mortella,is of Italian origin. There were similar towers in Italy called Tori Di Martello. Martello is Italian for Hammer. Each tower conatined an alarm bell which was struck with a hammer.
Or was it based on 'Myrtello Point', which was the geographical name of the headland where the tower stood; the headland was covered in the wildflower Myrtle?
Whatever the truth of the matter, there were several versions of the names used until the name Martello Towers become common usage from 1803.