Martello Towers in Mauritius
The British built five Martello Towers between 1832 and 1835 at Grand River North West (2), Black River (2), and Port Louis (1), of which three survive.
The British decided to build five Martello Towers alongside the West coast of Mauritius as a coastal defense structure in case of invasion by the French who at that time were unhappy with the British plan to abolish slavery. One was found at Tamarin, another at L'Harmonie (now a national monument), one at la Preneuse, one at Fort Victoria and the last one known as Cunningham's Tower.
The Martello Towers were never involved in any military action. The Cunningham Tower disappeared between 1880 and 1902 and information about the tower at Fort Victoria was last recorded in 1880. Oral accounts have it that in the 1930s the Tamarin tower had already been abandoned and the site littered with cannon balls.
Towers 3, 4 and 5 remain. Tower 1 was Cunningham Tower and constructed to defend Fort George from the flanks and rear during construction. It was removed sometime before 1921 but was unique in having three cannon mounted whilst the rest of the towers had only one mounted as most Martello Towers were to provide 360' cover. Tower 1 was also significantly larger. Tower 2 was at Fort Victoria which has had a power station built on the site. Some remnants of the battery remain but the Martello Tower is long gone.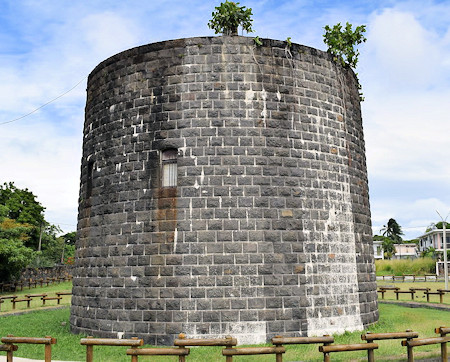 Mauritius Tower No.3
Martello Tower No.4 is located at La Preneuse and is the only tower which has remained intact. The flat roof had two cannons were installed, one facing the sea and the other facing inland.
In 1992, 'Friends of the Environment' started restoring the tower in La Preneuse with funds from the Government and other institutions. It was beautifully restored into a museum which was opened in 2000 and is now an important part of Mauritius National Heritage Site.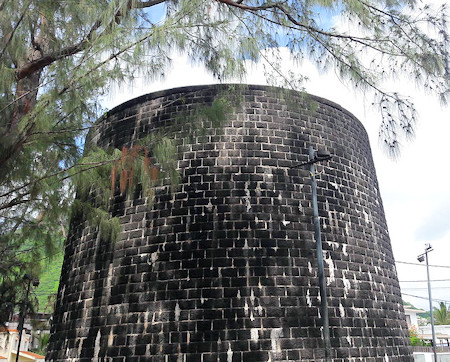 Mauritius Tower No.4
Tower 5 has only recently become accessible however, structurally it appears intact and is just behind an old French battery which oddly has both a French mortar in the bushes and a British cannon on the terreplein however I suspect this was placed here by the wealthy French-Mauritian family who owned the land and built a beach house on parts of the old battery.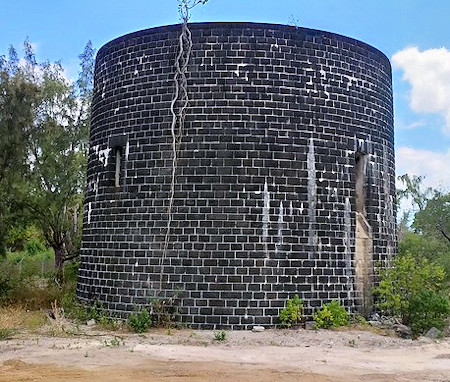 Mauritius Tower No.5