People
Who's who and Martello Towers. This page tells you about some of the many notable people that have been associated with Martellos.

Napoleon Bonaparte
French military leader and Emperor


Field Marshal Henry Seymour Conway
Soldier and Governor of Jersey

Captain William Ford
British Army Royal Engineer

Giovan Fratino
Designer of the original Martello Tower

William Pitt
British Prime Minister

Sir Home Popham
British Military Commander


General William Twiss
British Army Royal Engineer

Field Marshal Henry Seymour Conway
Field Marshal Henry Seymour Conway was a British general and statesman.
In 1772 was made a full general and Governor of Jersey.
He first visited the island in 1778 and was appalled by the state of the Island's defences and started a programme of building coastal towers. Eight true Martello towers were built in Jersey, three between 1808 and 1814, and five between 1834 and 1837
This was not enough to prevent the French invasion of 1781, leading to the Battle of Jersey, but the programme continued.
His political career came to an end in 1784 when he lost his seat in parliament due to his opposition to the government of William Pitt.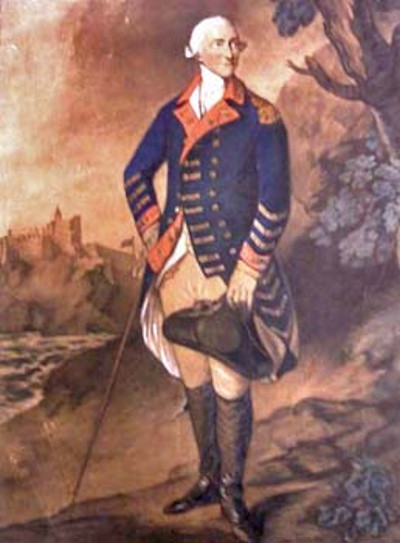 Captain William Ford was a military engineer who first put forward a proposal for a chain of square gun-towers - `towers as sea fortresses' - along the coasts of Kent and Sussex in 1802/3. He proposed towers that were to be sited at close intervals, so that their fire crossed for mutual protection, while the high cost of their construction compared to existing field-works was to be partly offset by their lower maintenance requirements. After some eighteen months of debate inside and outside the military establishment, Ford's proposals were adopted in modified form and the round towers then constructed became known as Martellos.

Giovan Giacomo Paleari Fratino (1520–1586), known as El Fratin or Il Fratino ("The Little Friar"), was a military engineer who served the Spanish Emperor Charles V, and then his son Philip II of Spain. He is known for having designed the first Martello tower as well as many other fortifications. During the Italian War of 1551–1559, Giovan Fratino initially served in the French army. After being captured by the Spanish in 1558 he joined the army of Philip II. Giovan and his brother Giorgio were assigned to the Governor of Milan, tasked with strengthening the old Sforza Castle. In 1563 his services were lent to the Genoese, allies of Spain, to help with the defenses of Corsica.
He produced a diagram and building instructions for the tower at Mortella Point, which was to help defend the town of San Fiorenzo by protecting the entrance to the gulf. The tower was built between 1564 and October 1565. Typical towers at that time were square and had a defending machicolation. Fratino designed a 3-story cylindrical tower with a rooftop gun platform, and with no machicolation, an innovative design that was only accepted after some resistance.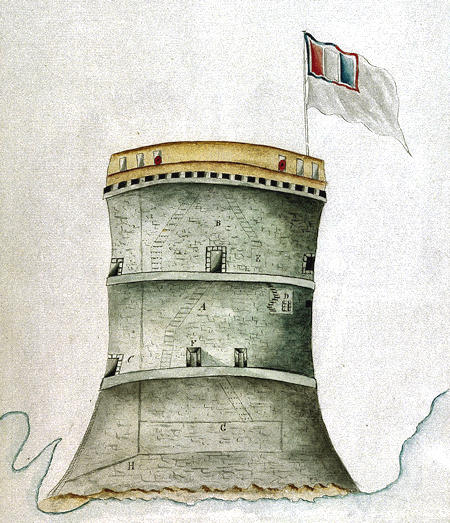 Tower Designed by Giovan Fratino

William Hobson (1752-1840), of Markfield House in South Tottenham, was a successful Quaker builder who in 1805 was commissioned to build Martello Towers along the South and East coast as defences against a feared French invasion during the Napoleonic Wars. He was also involved in the construction of the London Docklands and the building of the new Newgate prison.

The activity with which William Hobson is particularly associated was the building of the Martello Towers along the South and East coasts of Britain for defence against a feared French invasion. Reacting to this very real threat, the British government set about urgently improving defences along what it considered to be the most vulnerable stretches of coastline
The towers were so called because at Mortella Point in Corsica, a small round tower that withstood an immense battering by cannon fire from an English fleet commanded by Lord Hood in 1794. A prominent engineer at the time, Captain William Ford, put forward the proposal to create a chain of similar towers, spread at regular intervals along the coast. If one tower could repel two heavily armed British ships, then a strategically placed series would surely have a devastating effect on any invading fleet.
Many of the towers built by William Hobson remain today especially along the Kent Coast. Typically the towers are about forty feet in height, are situated along the beach and are of a very solid construction.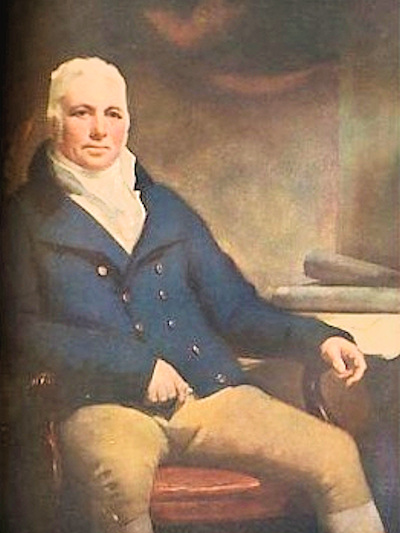 William Hobson by Henry Raeburn

Lieutenant-General Sir John Moore, KB, was a British soldier and General, also known as Moore of Corunna. He is best known for his military training reforms and the building of the Dymchurch Redoubt, the Martello Towers and the Royal Military Canal.
John Moore was born in Glasgow in 1761 and joined the British Army in 1776 as an ensign in the 51st Regiment of Foot. In 1803 to commanded a brigade at Shorncliffe Army Camp near Folkestone, where he established the innovative training regime that produced Britain's first permanent light infantry regiments.
When it became clear that Napoleon was planning an invasion of Britain, Moore was put in charge of the defence of the coast from Dover to Dungeness. It was on his initiative that the Martello Towers were constructed following a pattern he had been impressed with in Corsica, where the prototype tower, at Mortella Point, had offered a stout resistance to British land and sea forces.
He also initiated the cutting of the Royal Military Canal, and recruited about 340,000 volunteers to a militia that would have defended the lines of the South Downs if an invading force had broken through the regular army defences.
In 1804 Moore was knighted and promoted to Lieutenant-General. In 1806 he returned to active duty in the Mediterranean and then in 1808 in the Baltic. He died in 1809 at the Battle of Corunna, in which he defeated a French army under Marshal Soult during the Peninsular War.

reference and more information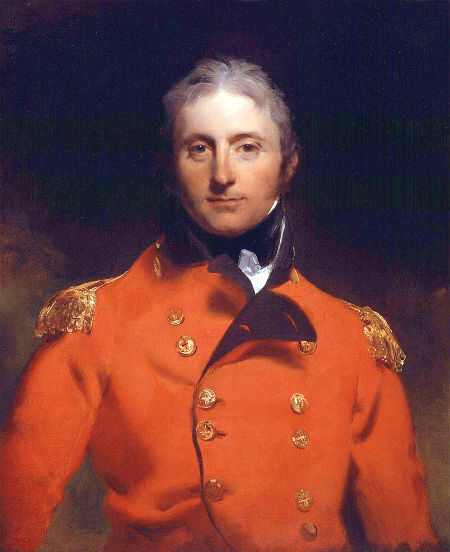 Sir John Moore by Sir Thomas Lawrence

Biography of Sir John Moore

Rear Admiral Sir Home Riggs Popham, KCB, KCH, was a Royal Navy commander who saw service against the French during the Revolutionary and Napoleonic Wars.
He is remembered for his scientific accomplishments, particularly the development of a signal code that was adopted by the Royal Navy in 1803.
Home Popham was born in Gibraltar on 12 October 1762, the fifteenth child of Joseph Popham, British consul at Tétouan in Morocco, and his first wife Mary, née Riggs. He died in Cheltenham on 11 September 1820 aged 57, leaving a large family.
Popham was one of the most scientific seamen of his time. He did much useful survey work and was the author of the code using signal flags adopted by the admiralty in 1803 and used for many years.
It was at Popham's suggestion the British Admiralty authorised the formation of co-ordinated Sea Fencible units along the English and Irish coasts.

reference and more information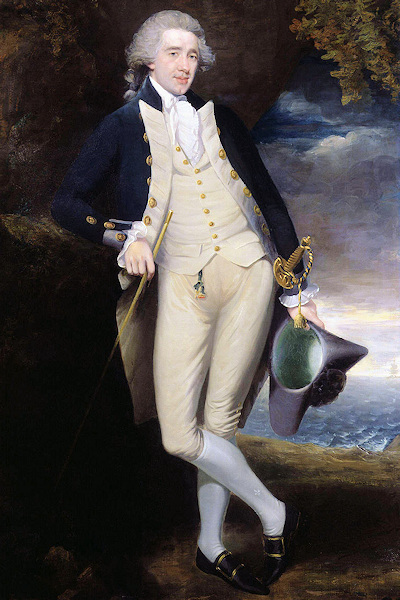 Sir Home Popham

William Pitt was Prime Minister of Britain during the reign of George III during the period that was dominated by major events in Europe, including the French Revolution and the Napoleonic Wars.
William Pitt the Younger was born in 1759 and became the youngest British prime minister in 1783 at the age of 24. He left office in 1801 but was Prime Minister again from 1804 until his death in 1806. He was Chancellor of the Exchequer for most of his time as Prime Minister. He is known as "the Younger" to distinguish him from his father, William Pitt, 1st Earl of Chatham, called William Pitt the Elder or simply "Chatham", who had previously served as Prime Minister.
He led Britain in the great wars against France and Napoleon. Pitt was an outstanding administrator who worked for efficiency and reform, bringing in a new generation of outstanding administrators. He increased taxes to pay for the great war against France and cracked down on radicalism.
He was Lord Warden of the Cinque Ports and when in residence at Walmer Castle, the Lord Warden's residence, he helped organise a local Volunteer Corps in anticipation of a French invasion, acted as colonel of a battalion raised by Trinity House – he was also a Master of Trinity House – and encouraged the construction of Martello Towers and the Royal Military Canal in Romney Marsh.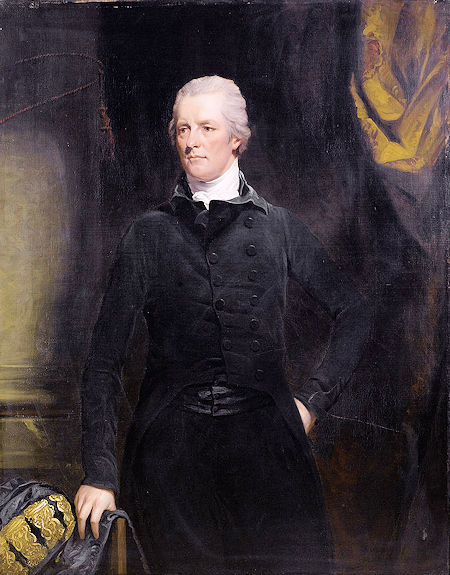 Portrait of William Pitt by John Hoppner c1804

General William Twiss, (1745 – 14 March 1827), was a British Army Royal Engineer, responsible for the design of many military defences.
Probably born in Kent in 1744 or 1755, Twiss worked in the ordnance office at the Tower of London from 1760, before becoming overseer of works at Gibraltar. Receiving a commission in the army in 1763. Returning to England, he commenced work on the defences at Portsmouth Dockyard, before accompanying General Sir John Burgoyne's army to Canada in 1776, where he was responsible for a number of defensive programmes.
He returned to England in 1783. Over the following years, Twiss oversaw the construction of various defences, including the chain of Martello Towers along the Kent and Sussex coastline. Twiss also accompanied the army on expeditions to the Netherlands, the Channel Islands and Ireland. Twiss was made Major General in 1805, and in 1809 became colonel-commandant of Royal Engineers Corps. 1825 saw him made full general.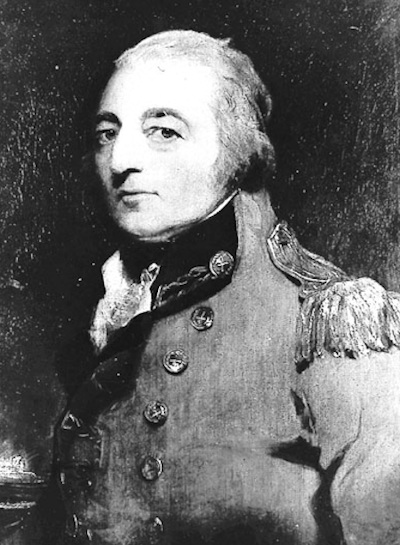 General William Twiss